Tuesday, July 11, 2023 / by Va Marketing
The concept of the American Dream is deeply personal, and everyone has their own interpretation of what it entails. However, for many individuals, it revolves around achieving success, freedom, and prosperity. Owning a home plays a crucial role in fulfilling these aspirations.
A recent survey conducted by Bankrate asked respondents to identify the achievements they believe best embody the American Dream. The results clearly demonstrate that owning a home remains an essential goal for numerous Americans today (refer to the graph below).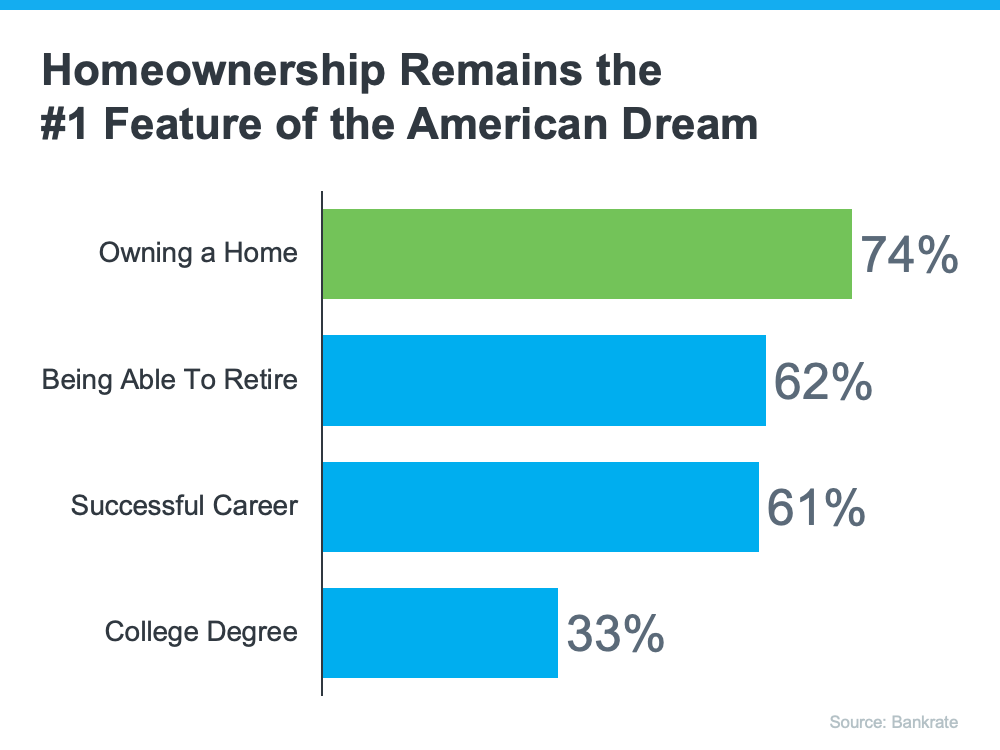 Homeownership ranks higher than other significant milestones such as retirement, a successful career, and earning a college degree.
A report from MYND provides valuable insights into why homeownership holds such immense value for people. The study reveals that nearly two-thirds of Americans (65%) view homeownership as a means of building intergenerational wealth. This perception is grounded in the fact that owning a home allows your equity and net worth to grow over time as you pay off your mortgage and witness the appreciation of home prices. This aspect plays a pivotal role in establishing intergenerational wealth and long-term financial stability.
Supporting the notion of the transformative power of homeownership, a report by Fannie Mae emphasizes that a majority of consumers (87%) believe owning a home is vital to "live the good life." Interestingly, a significantly higher number of individuals associate "having less stress" with homeownership compared to renting. This sentiment is particularly relevant in today's context, as owning a home with a fixed-rate mortgage can help stabilize your largest monthly expense—your housing cost—which mitigates the impact of rising inflation.
What does this mean for you? While the current landscape of higher mortgage rates and home prices might appear challenging for aspiring homebuyers, it's essential to recognize that when the timing is right for you, remarkable benefits await you on your homeownership journey.
In conclusion, buying a home represents a significant and impactful choice, embodying the very foundation of the American Dream. If you intend to turn your homeownership dream into a reality this year, I encourage you to reach out so that we can initiate the process together.